Proud Supporter of the King Center 2012-2013 Performing Arts Season
See all our Sponsors
Gift Certificates
Group Sales
PEKING ACROBATS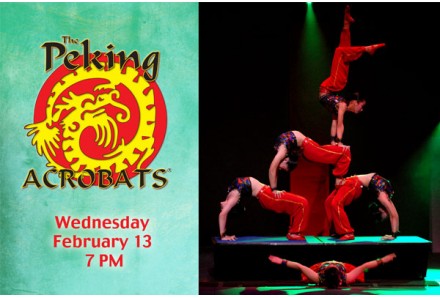 THE PEKING ACROBATS, a troupe of China's most gifted tumblers, contortionists, jugglers, cyclists and gymnasts, complemented by live musicians playing traditional Chinese instruments, will bring their 2,000-year-old tradition of acrobatics to North America. This tour has added new, exciting acts and new twists to old favorites, celebrating twenty-seven years of awesome entertainment! THE PEKING ACROBATS will once again be pulling out all the stops to make this their most memorable tour to date. Featuring the acrobats performing their unique brand of artistry in incredible costumes, with dazzling special effects and live musicians playing traditional Chinese instruments on stage with the acrobats, adds yet another stunning dimension to THE PEKING ACROBATS' Twenty-Seventh North American Tour! A great show for the entire family!
Artist's Website
Tickets
Wednesday, February 13, 2013 at 7:00 PM
Main Stage
Tickets for this event will go on sale to the public on Friday, October 12th at Noon.
Additional handling fees apply. Fees are determined by the amount of the ticket and the method of purchase. Click here for more information.
Coming up next: